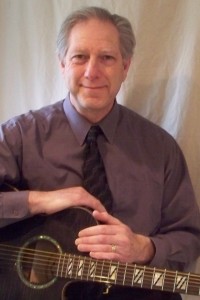 Whatever your event, whether it's a wedding, reunion, birthday party, anniversary celebration, holiday party or just a gathering of friends and family, you will want the music to enhance the mood and create just the right atmosphere for your guests. Bill Reidy, a veteran singer and guitarist, can provide the type of music you are looking for, from sweet love songs and ballads to swinging upbeat numbers.
His vast songbook contains hundreds of songs and includes music from a variety of different musical styles – Folk, Pop, Classic Hits, Jazz Standards, Soul, Oldies, Country and Holiday Songs. You can either choose songs from his existing songbook or you can request specific songs that he will add to his songbook and include in his performance at no additional charge.
Because each event is unique and calls for its own type of musical accompaniment, Bill will work with you to establish the types of songs that would be most appropriate for your event. You may want him to provide background music for your event, as in a reception or a cocktail party, or you may be looking for a performance where his music will be the focal point of the event, as in a house concert.
You may want to take a few moments to explore this website in order to listen to some song samples, view videos of live performances, look at Bill's current song list, find out where he has performed, check out his current schedule and see testimonials from Bill's satisfied clients.
If you have any questions, feel free to contact Bill by phone at 508-287-8008 or by email at Bookings@BillReidyMusic.com.