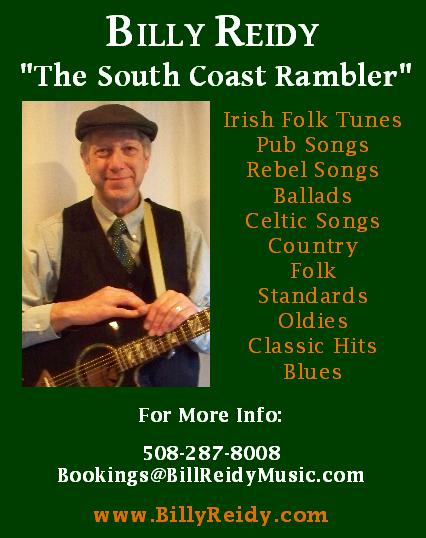 Looking for some traditional Irish music for your event? Billy Reidy, whose ancestors came from the South Coast of Ireland, offers an entertaining one-man show that includes traditional and contemporary Irish folk tunes, rebel songs, ballads, pub songs, and Celtic songs.
Billy sings while accompanying himself on acoustic guitar. He covers the songs of The Clancy Brothers, The Dublin City Ramblers, The Dubliners, The Fureys, The High Kings, The Irish Rovers, Dolores Keane, Tommy Makem, Jim McCann, Christy Moore, The Pogues, Paddy Reilly, The Wolfe Tones and many more!
In addition to Irish songs, Billy has an extensive repertoire of over 1,000 songs covering a wide range of genres, including Country, Folk, Oldies, Classic Hits, Standards, Blues and Roots music.
His extensive song list offers something for everyone!
Billy Reidy's solo acoustic act is perfect for St. Patrick Day celebrations, Irish Pubs, Irish-American Organizations, Irish Events & Festivals, and any private party where Irish music, and other types of music, would be appreciated.
In addition to his solo acoustic act, Bill can also offer a duo, Reidy and Higgins, which includes Ellie Higgins on vocals, guitar and percussion, along with Bill on vocals, guitar, percussion, harmonica, and tin whistle.
If you, or your organization, would like more information about the music of Billy Reidy, he can be reached by phone at 508-287-8008 or by email at Bookings@BillReidyMusic.com.
For information about other acts that Bill offers, go to www.BillReidyMusic.com, where you will find more audios and videos and a description of his other solo acts and duos as well as his popular tribute shows.


AUDIOS
Wild Rover
Spancil Hill
Dublin In The Rare Ould Times
Mairi's Wedding
Brennan On The Moor
Will Ye Go Lassie Go
VIDEOS
IRISH SONG LIST
Auld Triangle
A Man You Don't Meet Everyday
All For Me Grog
An Irish Lullaby
Back Home In Derry
The Band Played Waltzing Matilda
Biko Drum
Black Velvet Band
Black Is The Colour
Bold O'Donahue
The Boys of Killybegs
Brennan on the Moor
Carrickfergus
Clancy Lowered The Boom
Cliffs of Doneen
City of Chicago
The Cobbler
Come Back Paddy Reilly
Come Out Ye Black and Tans
Courtin' In The Kitchen
Craic Was 90 In The Isle of Man
Danny Boy
Dear Little Shamrock
Dicey Riley
Drink It Up, Men
Drunken Sailor
Dirty Old Town
Dutchman
Fairytale of New York
Fiddlers Green
Fields of Athenry
Finnegan's Wake
Flight of Earls
The Ferryman
From Clare To Here
Four Green Fields
Foggy Dew
Galway Bay
Galway Girl
Galway Races
Galtee Mountain Boy
Go Move Shift
Grace
Green Fields of France
Greensleeves
The Holy Ground
Home Boys Home
I'll Take You Home Again Kathleen
I'll Tell Me Ma
I'm A Rover
Irish Rover
John O'Dreams
Johnny I Hardly Knew Ya
Jug Of Punch
The Leaving of Nancy
The Leaving of Liverpool
MacNamara's Band
Maggie
Mairi's Wedding
The Mermaid
Missing You
Molly Malone
The Moonshiner
Molly Maguires
Mountains of Mourne
Muirsheen Durkin
My Own Dear Galway Bay
My Wild Irish Rose
Nancy Spain
Nancy Whiskey
A Nation Once Again
Natives
On Raglan Road
On The One Road
Ordinary Man
A Pair of Brown Eyes
The Parting Glass
Patriot Game
Peggy Gordon
Quiet Desperation
Rainy Night In Soho
Rare Ould Times
Real Old Mountain Dew
Red Is The Rose
Red Rose Cafe
Ride On
Rising of the Moon
Roddy McCorley
The Rose of Tralee
Sally MacLennane
Song For Ireland
Seven Drunken Nights
Spancil Hill
The Spanish Lady
The Star of the County Down
The Town I Loved So Well
Unicorn Song
Viva La Quinta Brigada
Wild Colonial Boy
When Irish Eyes Are Smiling
Whiskey You're The Devil
Wearing of The Green
Whiskey In The Jar
Wild Rover
Will Ye Go Lassie Go
The Proud History of the Reidy Clan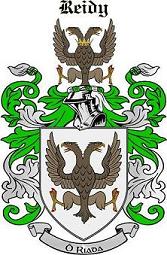 The Reidy family surname  (also Reedy, Riedy, Reid, and O'Reidy) is an Anglicized version of the Gaelic name Ó Riada. The family was part of the Dalcassian sept and in early Gaelic times lived in the southwest of Ireland, in the Munster counties of Clare and Kerry. The Ó Riadas can claim lineage to the legendary King Oiloill Olum, who was Monarch of Munster in the third century.
In the late 12th century the Ó Riadas gained control of lands belonging to the O'Donnegans, and an Ó Riada held the title of "King of Ara" (an area in Munster) for over three centuries. Records from the mid-1600s show clusters of Ó Riadas in counties Kerry, Limerick and Tipperary, and as far east as Waterford. Reidy is often claimed as a Scottish or Scotch-Irish name, and in fact, the Irish Ó Riadas are related to Carbri Riada who established kingdoms in ancient Ireland and Scotland.
Perhaps one of the most well known descendants of the Ó Riada clan is Irish composer Seán Ó Riada. Ó Riada, who was born John Reidy in 1931, reintroduced and revolutionized traditional Irish music by combining it with the classical tradition. Ó Riada's formation of the traditional Irish band, Ceoltóirí Chualann, popularized Irish-language music. Ceoltóirí Chualann played in concert halls and attracted large crowds. It was one of the first modern popular Irish folk bands, and helped give rise to The Chieftains. Ó Riada has been credited with reintroducing the bódhran, which had not been widely used since the 16th century.
Source: Maeve Molly, Irish America Contributor, December / January 2008