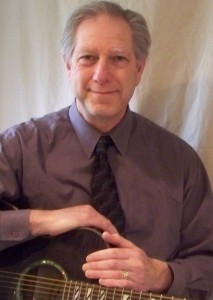 Bill  Reidy has been performing professionally since the early 1970s and has performed hundreds of times in dozens of venues with a variety of different acts, including blues bands, rock bands, acoustic duos and as a solo performer. As a solo performer, Bill performs in restaurants, taverns, fundraisers, concerts, assisted living facilities, skilled nursing facilities, adult day facilities, senior centers and councils on aging. He has also performed at special events in front of as many as 4,000 people.
Bill plays several instruments, including guitar, dobro, harmonica, trumpet, trombone and percussion. As a studio musician for Ark Albums, he has  played on the CDs of local musicians, and as a side man William has provided lead guitar, slide guitar, harmonica and trumpet accompaniment for the live performances of several local singer-songwriters.
He has been hired for shows and events by EncorEntertainment, Nightlife Music, Professional Entertainment Consultants and Don Mac Entertainment, and he has opened for award-winning singer-songwriter, Les Sampou. Bill Reidy is a Featured 5-Star Act for Professional Entertainment Consultants.
I have been to several of Bill's performances. His deep, strong voice, his skillful, beautiful guitar playing and overall musicianship and presence are all top notch. I notice at each venue that many people go up to him and give compliments and express how much they enjoy his music. I quickly became a huge Bill Reidy fan from the very first time I heard him on stage." – Ellie H., Mattapoisett, MA
Bill operates Bill Reidy Music, which represents all of the acts that he is involved with, including:
Bill Reidy: Solo Singer and Guitarist
The Delta Juke Stompers
Ellie Mae & Big Bill Acoustic Duo
The Highway 61 Blues Band
Solitary Man: Neil Diamond Tribute
The Songs of Sinatra
The Man In Black Johnny Cash Tribute Show
Southcoast Rambler Irish Folk Music
Irish Ramblers: Irish Pub Music
Bill and his bands are available for private parties, restaurants, coffee houses, night clubs, concerts and special events. You can reach Bill by phone at 508-287-8008 or by email at Bookings@BillReidyMusic.com. You can learn more about the acts that Bill is in at www.BillReidySolo.com