One great way to get the experience of seeing one of  your favorite entertainers in concert is by going to a tribute show. Tribute shows are also a great way to enhance any event, like a fundraiser or a private party. Bill Reidy offers the following tribute shows.
Solitary Man Tribute: This is a one-man solo tribute to pop music legend Neil Diamond. In this show, Bill takes on the persona of the original Solitary Man (including 1970s hair style and a bright colored shirt) and sings all of Neil's hit songs from the past 5 decades. Bill accompanies himself on guitar and plays to backing rhythm tracks. You can learn more about this show by visiting www.SolitaryManTribute.com.
The Blue Suede King: This is an Elvis Presley Tribute Show that is different from most others. While many other Elvis tribute artists dress in sequined jump suits (as Elvis did after his 1968 comeback) and sing to a karaoke machine, this show features Bill playing solo, accompanying himself on acoustic guitar, with backing rhythm tracks. And because he plays the songs made popular by Elvis in the 1950s and early 1960s, his outfit is more reflective of that era when Elvis was known as "The Hillbilly Cat." For more information, including audio song samples and a set list from the show, go to http://billreidysolo.com/the-blue-suede-king/.
Ol' Blue Eyes Is Back…Again: Frank Sinatra was one of the most popular singers of the 20th Century. And thanks to present day popular singers like Michael Buble, the songs of Sinatra are more popular than ever! In this show, Bill plays tribute to Frank Sinatra by singing all of the songs made popular by "Ol' Blue Eyes" himself. He accompanies himself on finger style jazz guitar on slow ballads and love songs as well as up-temp swinging numbers. It's a real crowd pleaser! For more information and audios and videos, you can go to www.TheSongsOfSinatra.com.
The Man In Black Tribute:  All of the songs that any die-hard Johnny Cash fan would want to hear, including Folsom Prison Blues, I Walk the Line, Ring of Fire, Man in Black, and many more! Get more info at www.TheManInBlackTribute.com.
Each of the above tribute shows are offered individually or can be combined into a single show. Go to www.TheLegendsTributeShow.com to see how this show can bring more people to your venue or event.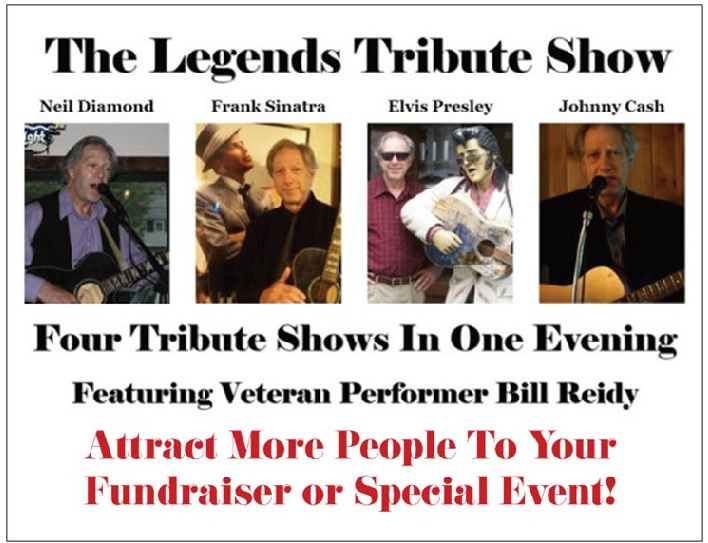 Please take a moment to check out the rest of this website, where you will find audio song samples, links to videos of live performances, a list of Bill Reidy's past  venues and events, and testimonials from happy customers. If you would like more information, feel free to contact Bill by phone at 508-287-8008 or by email at Bookings@BillReidyMusic.com.