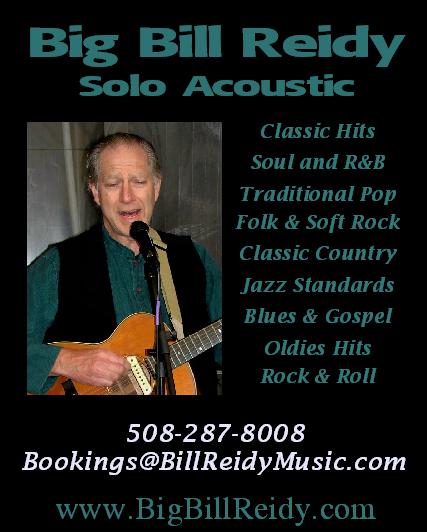 Looking for entertainment that offers a little something for everyone? As a solo entertainer, Big Bill Reidy performs music from a wide variety of genres, including Pop, Classic Rock, Folk, Blues, Jazz Standards, Irish Music, Country, R&B, Oldies and Rock 'n' Roll. With his rich baritone voice, he sings the songs of music legends like James Taylor, Neil Diamond, Van Morrison,  John Denver, Gordon Lightfoot, Johnny Cash, Hank Williams, Elvis Presley, Frank Sinatra, The Beatles, The Beach Boys, The Eagles, The Drifters, Jimmy Buffett and many others.
If you are looking for an Irish singer-guitarist, Bill has a vast repertoire of over 100 Irish Folk Songs, Ballads, Pub Songs and Rebel Songs by artists like The Clancy Brothers, Tommy Makem, The Dubliners, Christy Moore, and many more. Click here for Bill's Irish Music web page.
Big Bill entertains his audience with selected tunes from his vast song book, and tailors his sets to meet the tastes of each audience. Customers of all ages, from 20-somethings to 70-somethings, love Bill's music.  He has played at festivals, concerts, restaurants, taverns, coffee houses, fundraisers, private parties, community centers and other special events.
AUDIOS
Sittin' On The Dock of the Bay
After Midnight
Hooked On A Feeling
Some Kind Of Wonderful
 It's Too Late To Turn Back
On Broadway
Bill Reidy is a singer and self-taught multi-instrumentalist who has been performing professionally since the early 1970s. He plays acoustic guitar, slide guitar, electric lead guitar, harmonica, percussion, trumpet and trombone. Over the years, he has performed with blues bands, rock bands, acoustic duos and as a solo performer. In addition, he has played a variety of instruments as a studio musician on the CDs of local musicians.
Bill has been hired to perform for various events venues by EncorEntertainment, Nightlife Music, Don Mac Entertainment, Professional Entertainment Consultants and The Savory Affair.
He has a deep appreciation for all types of music, including blues, jazz, classical, world music, R&B, gospel, folk, country, rock and bluegrass. His playing and singing have been influenced by the blues greats Muddy Waters, Elmore James and Junior Wells, swing legends Frank Sinatra, Joe Williams and Billie Holiday as well as folk and country singer-songwriters, Tom Rush, Neil Diamond, Kris Kristofferson and Jerry Jeff Walker.
"I have been to several of Bill's performances. His deep, strong voice, his skillful, beautiful guitar playing and overall musicianship and presence are all top notch. I notice at each venue that many people go up to him and give compliments and express how much they enjoy his music. I quickly became a huge Bill Reidy fan from the very first time I heard him on stage." – Ellie H., Mattapoisett, MA
Attention Booking Managers:
How Big Bill Reidy Can Bring More Customers to Your Establishment
Having talented musicians play at your establishment is fine but it's not much good if they do not know how to promote their acts in order to bring in more people. Bill Reidy is an experienced marketer who does TONS of promotion for all of his shows. He utilizes both online and offline resources in order to get the word out and create a "buzz" about his shows. At one venue, over 250 people paid $20 a ticket to see his show. And at a local restaurant his marketing efforts  brought in so many people that the restaurant had to put extra tables on the stage! He sends out weekly emails and strategically promotes his shows on highly visible entertainment sites on Facebook and online calendars.  He also creates promotional posters that you can post in your establishment and on your own Facebook page so that all of your fans see it.
Contact:
Bill Reidy
Performer/Booking Manager
508-287-8008
Bookings@BillReidyMusic.com