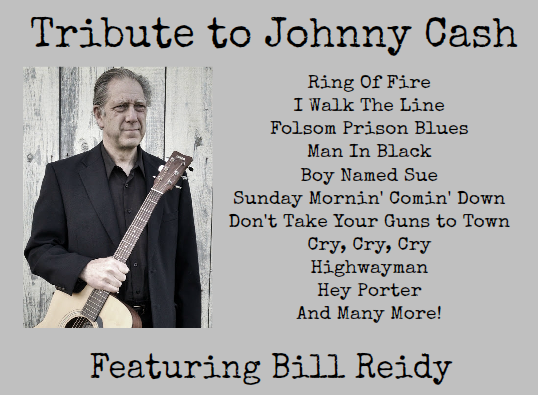 Johnny Cash, one of the greatest legends in the music industry, had hit records on the Country and Pop charts for over four decades. He hosted a popular TV show, was a gifted songwriter and performed for audiences all over the world. His music went beyond any traditional category and he was never afraid to try something new.
In this special tribute to Johnny Cash, Bill Reidy captures the essence of "The Man In Black" and sings all of his hit songs as well as many other great songs that die-hard Johnny Cash fans would want to hear.


Song List for "The Man In Black Tribute"
Folsom Prison Blues
Man In Black
Cry, Cry, Cry
Ballad of a Teenage Queen
The Ways of a Woman In Love
Jackson
It Ain't Me, Babe
One Piece at a Time
Thirteen
Ghost Riders In The Sky
I Still Miss Someone
Highwayman
Ballad of Ira Hayes
I Walk The Line
Boy Named Sue
Hey Porter
Hurt
Home of The Blues
All Over Again
Understand Your Man
Flesh and Blood
Guess Things Happen That Way
There You Go
I Got Stripes
What Is Truth
Bird On A Wire
Ring of Fire
Don't Take Your Guns to Town
Sunday Morning Coming Down
Big River
Five Feet High and Rising
In The Jailhouse Now
Blistered
Long Black Veil
Get Rhythm
Johnny Yuma
Busted
Wanted Man
Tennessee Flat Top Box
"The Man In Black Tribute" is available as a solo acoustic act (with backing rhythm tracks), as a duo with female vocals and percussion, or as a 3-piece band with electric guitar, percussion and female vocals. Rates for each act would be determined by the length of the performance (typical shows are 1 to 2 hours), the type of event and the location of the venue.
Booking Information
Contact Bill Reidy
508-287-8008
Bookings@BillReidyMusic.com