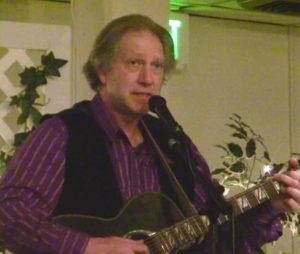 The great Neil Diamond has been entertaining audiences all over the world for over 40 years with   an endless collection of timeless hit songs, like Sweet Caroline, I Am…I Said, Song Sung Blue and Kentucky Woman, just to name a few. In  Solitary Man: A Tribute to the Great Neil Diamond, Bill Reidy brings Neil's hit songs to life in this entertaining tribute. With his rich baritone voice, Bill takes on the stage persona of  the original "Solitary Man" himself so that you'll almost think you are experiencing the great Neil Diamond performing live for your event!
This Special Neil Diamond Tribute includes many of Neil's classic hits like Walk on Water, Cracklin' Rosie, Holly Holy, Thank the Lord for the Night Time, Longfellow Serenade, Forever in Blue Jeans, Solitary Man, and a Boston-area favorite, Sweet Caroline. As a solo performer, Bill interprets Neil Diamond's songs as Mr. Diamond might do if he were playing his songs live for an intimate audience with just an acoustic guitar.
"Bill Reidy captures the sound and the soul of Neil Diamond, from soulful ballads to up-tempo rockers, with spot-on vocals and expressive guitar work.  We have seen Neil Diamond from 300 yards away at TD Garden in Boston, but this up-close and intimate show with Bill was much more enjoyable."  – Richard G., Framingham, MA
"For years I thought no one could pull off a tribute to Neil Diamond, he has quite a unique voice and he is one of my all time favorite performers, having seen him in concert twice. Boy was I wrong! I recently had the pleasure of seeing Bill Reidy perform his tribute act to Neil. I was blown away by the sound of Bill's voice. He has a very melodic voice that does justice to Neil's music. Bill also had the energy to get the crowd up and dancing as well as singing along with all the songs that we have come to know. I am hoping to seeing Bill perform many times in the future!"
Christine P., New Bedford, MA
Ideal for Private Parties, Concerts, Lounges, Restaurants, Fundraisers and Special Events!

Bill Reidy has been performing professionally since the early 1970s and has played with a variety of acts including blues bands, rock bands, acoustic duos and as a solo performer. Bill also works as a studio musician, and has  played several different instruments on the CDs of local musicians.
Call 508-287-8008 For More Info!