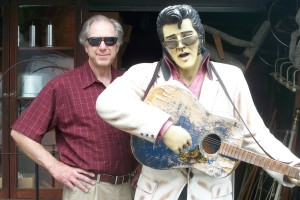 This is an Elvis Presley Tribute Show that is different from most others. While many other Elvis tribute artists dress in sequined jump suits (as Elvis did after his comeback in 1968) and sing to a karaoke machine, this show features Bill Reidy performing solo, accompanying himself on acoustic guitar, with backing rhythm tracks. And because Bill plays the songs made popular by Elvis in the 1950s and early 1960s, his outfit is more reflective of that era, when Elvis was known as "The King of Western Bop", "The Hillbilly Cat", and "The Memphis Flash."
Here are short samples of some of the songs featured in this show.
It's Now or Never
Can't Help Falling In Love
All Shook Up
Don't Be Cruel
Here is  a complete set list of  "The Blue Suede King."
All Shook Up
Blue Suede Shoes
Baby Let's Play House
Burnin' Love
Crying In the Chapel
Don't Be Cruel
Devil In Disguise
Good Luck Charm
Hound Dog
Heartbreak Hotel
I Want You, I Need You
I Can't Help Falling
It's Now or Never
Jail House Rock
Little Sister
Love Me Tender
Mystery Train
Return to Sender
Stuck on You
Suspicion
Suspicious Minds
That's Alright
Teddy Bear
The Wonder of You
Please take a moment to check out the rest of this website, where you will find audio song samples, links to videos of live performances, a list of Bill Reidy's past  venues and events, and testimonials from happy customers. If you would like more information, feel free to contact Bill by phone at 508-287-8008 or by email at Bookings@BillReidyMusic.com.